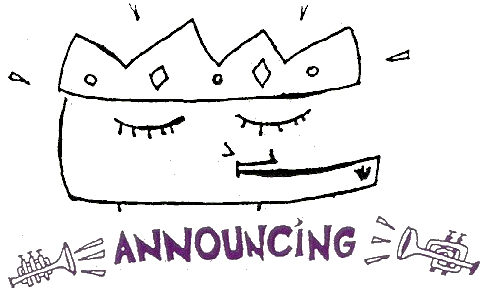 Fruhead Songs are coming your way!

Dave tour date & solo album info

What are the lads up to during the hiatus?

Help get Fruvous on the radio in Decatur

Fruhead Literary Magazine is available

New AMMF buttons available

Moxy wakes up the space shuttle!

---
Fruhead Songs are coming your way!
From the Webmaster (8/6/01):
Hello all!
From June of 1996 through New Year's Eve in December of 1997, fruheads raced across the globe to acquire more and more stamps on their Fruhead cards. Those lucky enough to get at least 18 were immortalized in a song, written about them by Moxy Fruvous.
In January 2001, all 41 fruhead songs were done...recorded to CD. Jian asked me to distribute the songs to each recipient. Each person who had a song coming to them got their song (and only their song) on either CD or in mp3 format via the web. I was unable to track down 2 fruheads, and to this day, they still have not received their songs. If you know anything about the following people, please e-mail me:
Nic Plummer (Ohio State - MidWest)
The fruheads who did get their song were asked if they would mind if that song were distributed at some later date. Most everyone said they would not mind, so now everyone can enjoy these wonderful songs that Moxy obviously put a lot of effort into. These songs are not chincy, quick, or thrown together. The lyrics are thoughtful and take into account, in many cases, the person they're about to a great extent. The music is wonderful. The quality is excellent.
The current plan is to put one song up onto FDC each month. I may do it a little more or less frequently, depending on the response.
Click here to go listen to the currently available fruhead songs
---
Dave's solo date & album info
Album is available from maplemusic.com (released on 4/30/2001)
Some media links:
http://www.umbrellamusic.com/,
http://www.umbrellamusic.com/umbrellatv/umbrellatvarchive_april2001.html,
High res video,
Lo res video
Click here for a message from Dave
---
Jian's tour and solo album info
Jian's mailing list: subscribe@gojian.com
From July 26, 2001:
dear friendly humans (humans friendly to jian) -
there is much transpiring in the jian universe. and all of this can be discovered at my swank new revamped website: jianghomeshi.com
if you haven't visited recently you must check out the new look. i've already taken calls of congratulations from susan sarandon, henry kissinger, and my mom about its swankness. not since joyce dewitt uploaded her "why i *was* a significant cast member of three's company" page has there been this much excitement about a website. two thumbs up!
for those of you who can't access the site because you don't have a computer - which doesn't explain how you're getting this email - here's some significant news: i am releasing my first solo recording (an ep entitled, "the first 6 songs...") at the end of this week! it will only be available at live shows starting with the falcon ridge folk festival in new york this weekend and then online starting next monday (july 30). i expect we'll do a wider release in the early fall.
i'm excited about this cd which is composed of all new original songs including a tune i've written about the anti-globalization protests i attended during the summit of the americas meetings in quebec in april. the tear gas and pepper spray were worth it in the sense that i've ended up with a cathartic piece of writing that i feel speaks my thoughts. the rest of the disc sounds pretty much like the theme song from "survivor 2: australian outback". great stuff. the kids will love this one.
this cd (ep) will be sold at a discounted price in the shameless effort to undercut other worthy artists whose music will be selling for higher amounts. also, for each 5 copies that you buy, you get the option of a full-body massage from me or an annual subscription to the new republic magazine - free! (limit of 4 copies per person).
i'm in the midst of planning a bunch of shows for the fall in ontario and the northeast united states. i hope y'all will attend. do keep in touch and check the site for the latest concert updates. gotta go pack for the falcon ridge fest...
yours,
jian
ps - for those of you who are interested in my writing, the latest "here's my point" column is now on the website and in full printed form in today's globe and mail newspaper across canada. cheers!
From April 25, 2001:
dear human -
i've just returned from quebec city where i was tear-gassed into submission by my own government for trying to express my ideas. really. maybe i should take that job offer as "live human doormat!" at the nike superstore after all. one of their high-paying positions i'm told...and corporate friendly.
thank you for recently signing my cyber mailing list or not having your existing place on the list removed in a fit of fury. it is important that i have this medium of communication open to reach you in case there's an emergency...or at least to tell you about my upcoming gigs.
i have three big solo shows in the next couple of weeks before i head into the studio to start recording my album. i'm *very* excited about the new disc. mind you, i've now decided to scrap all the new material i've written and simply re-record the "pieces of you" album by jewel - mixed with elements of the classic styx disc, "pieces of eight." yep, it's gonn! a be somethin' else.
come and experience it live!:
this friday APRIL 27 @ MILESTONES IN ROCHESTER, new york. (fyi - i'll be on the morning show @ WBER 90.5 in rochester on friday morning promoting this gig).
next friday MAY 4 @ ZAPHOD BEEBLEBROX IN OTTAWA.
saturday MAY 5 @ THE RIVOLI IN TORONTO.
there's more info about all of this at my website - jianghomeshi.com. and there's also a cool new fansite - jian.ca. many thanks to those running and contributing to the sites. in case you're curious, i plan on writing a column about quebec city and my reflections on the summit of the americas and the protests. it'll be on the main site in the next couple of weeks (and in a newspaper near you, perhaps).
i appreciate your ongoing support. i look forward to seeing y'all in the next couple of weeks (i don't care if you live in california...get yer ass out here!)
yours,
jian
From early April 2001:
first, for those of you who've just recently signed my list, thank you for signing on. there is a bag of pistachios waiting for each one of you. glad you're with me.
second, i'm writing because i'm doing a bunch of live shows in the near future and i thought i'd give you all a gentle reminder in case you haven't been checking my website (jianghomeshi.com) on the hour each day (you haven't? kindly return the pistachios).
i begin a northeast U.S. tour this wednesday that i'm very excited about. it's called "3 song circus" and i'm performing my new material with andy stochansky and erin mckeown - two *very* talented humans. we've begun rehearsals and i can honestly say that this is the best show you've seen since michael flatley slipped and bloodied his head during one of those annoying celtic prances in "lord of the dance" on broadway. yes, that good.
after the "3 song circus" tour i'm doing solo shows in rochester, ottawa and toronto that will excite your senses and sensors. i will make you forget about ginger spice. don't miss this.
here it is:

*3 song circus* 

this wednesday march 28 - buffalo @ the tralph!! 
thursday march 29 - pittsburgh @ the rosebud 
friday march 30 - philadelphia @ the point 
saturday march 31 - alfred, ny @ suny alfred 
monday april 2 - northampton @ the iron horse 
wednesday april 4 - boston @ tt bears 
thursday april 5 - albany @ valentine's 
friday april 6 - new york @ the bottom line 
saturday april 7 - providence @ lupo's 

*jian (with backing band)* 

friday april 27 - rochester @ milestone's 
friday may 4 - ottawa @ zaphod's 
saturday may 5 - toronto @ the rivoli 

come see me before i hit the studio in early may! and say hi. i'll introduce you to benicio del toro who has promised to hang out at all the dates. and steven soderbergh. and laura linney. and i'll have pistachios. or not. see ya. Jian
---
What are the lads up to during the hiatus?
Moxy is currently on a well deserved touring break. Here's what the individual lads are up to during their time off from Fru-touring:
Jian:
Doing solo performances...check out the tour dates or www.jianghomeshi.com.
"Badlands: A tribute to Bruce Springsteen" features the song "Highway Patrol Man" by Dar Williams produced and performed on by jian. Available in stores now. Check it out!
Big news from mz. Martina Sorbara!! Her new album [produced + performed on by jian] "The Cure for Bad Deeds" is complete and can be purchased (for now) at live shows! Check out martinasorbara.com for current tour dates!
Check out this list or Jian's website for the most up-to-the-minute info on what he's up to.
Mike:
Being husband, father, and rumored to be working on folk music education projects for children.
Murray:
Rumored to be playing with Tory Cassis at UofR in Rochester, NY on 11/10/00.
Dave:
Working on a solo release, to be out this year (See the discography for more info)
Cal:
Has a new website: colinsmix.com
In Philadelphia, on 9/22/00, at North Star Bar with Canadian blues guitarist, Sue Foley.
Tobey
Managing Martin Sexton's current tour.
---
The 'c' Album is available
From the Webmaster, on 5/22:
Visit the C Album page for information on how to order The 'c' Album.
From the Webmaster, on 5/17:
Visit the C Album page for the official track listing.
From the Webmaster, on 5/16:
Visit the C Album page for more info about the release date and to see the front cover design.
From the Webmaster, on 4/22:
Audio clips available: Multimedia Section
Discography page begun: Discography Section
From the Webmaster, on 4/10:
We hope to have some more info about the upcoming album for ya soon. Some artwork from the new album, a teaser track available as an audio download, and some information about the track listing should all be available shortly. Keep watching this space for more details as they become available!
From Judith Coombe on 3/20:
"Exciting developments - the C album should be out in May! This will be available exclusively through the fan club [By 'fan club', I believe Jude is referring to the age old ability to order stuff directly from Fruvous through the mail] and at shows, it will not be available at retail as far as we know."
[Webmaster's note: For those who don't know, the 'C' album will be a short collection of bits and oddities, much like the already released 'B' album.]


---
Help get Fruvous on the radio in Decatur
I saw the section about getting IWHO on the radio in Detroit. Maybe you can help me get something going here in Decatur, too.
I am friends with the program director for a local radio group - they have three stations. WEJT-FM (adult easy listening), WZNX-FM (rock) and WYDS-FM (top 40). I've already talked to him about getting IWHO on WEJT. He has committed to playing it if Moxy Fruvous comes to Urbana this year again and plays the Canopy Club. He knows the owner(s) and can work out a ticket giveaway. I can probably also get him to play Splatter on WZNX.
We can make the promotion work because MF gained a large group of fans when they played Decatur in 1997 at the Decatur Celebration.
I guess the trick is getting MF back to the area. They have played the Canopy Club the past two Novembers, but the schedule isn't posted yet for that far out.
So maybe this could be a reverse campaign to get MF to come to where we can get the music on the air. If we can get them to come to Decatur, that would be even better. I wouldn't have to drive an hour to see them! I'm open to suggestions.
In the meantime, here are links to the stations.
http://www.wejt.com/
http://www.wznx.com/home.htm
---
Fruhead Literary Magazine is available
Announcing the release of the very first (but definatly not the last) issue of "Followings: a Fruhead Literary Magazine". This project has been almost a year in the making from a suggestion that was made on A.M.M.F. to the final result! It is a place for Fruheads to come together and share their own creative works (anything from poems, stories, photos and plays to even recipes!!!) with the rest of us in the form of this small (as of yet) publication. Anything from Fruheads are accepted, and, no, it does not have to have any Fruvous content at all...feel free to send anything!
I am very pleased to announce that the first issue is finally ready meet the eyes of the Fruhead community. However, since I am a very broke college student right now, I regret to say that they will not be free. I am asking everyone who wants one to please send me $2.50 US per issue ordered. This will be enough to cover the printing cost and postage for mailing. I really wish i could send these out free of charge, but my current financial situation decrees otherwise.
If you would like to order one or more issues please e-mail me at adifru@hotmail.com and I'll send you my address (I still feel weird posting my address to a public forum like this). People can order as many as they like (*hint hint* they'd make great stocking stuffers for the Holiday Season ;-) but I must have ALL orders in by December 14. After that date I will send them all out and hopefully you will receive them before Christmas! Thanks so much for listening and please check it out!! It's awesome!!!!
Amy T. Schrader
---
Chad Maloney has a new batch of AMMF buttons
Ok, all you unknown Fruheads out there. Along with getting off my butt and working on the FAQ, I've also gotten off my butt and ordered a reprint of the old buttons. I ordered 250 of them, so we should have them for awhile. So you can get yourself a button to identify newsgroup people at shows!
I did put up money up front to do this. I have no idea what I should do about getting that money back. I'm thinking maybe I'll get Josh to add me to his FHDC donations stuff to include the buttons. Does that make sense to people?
What the button looks like: Click here
I think the guy on the other end of the ordering of the buttons is gonna redo the text to make it look better though. I said that was ok, because he sounded nice.
To get your new old alt.music.moxy-fruvous - Have modem will travel button, email me. I'll send you info on what to do to get a button. Button are free of charge of course.


---
The Moxy Früvous Comic Book is coming soon!
Fellow fruhead Michael Wood is planning on drawing a Fruvous comic book, to be debuted on FDC.
He has drawn an ad for the upcoming comic. Click here to check it out.
Mike would like some creative ideas from YOU! If you have any plot suggestions for the comic, please send them to:
Once the comic is ready, look here for its premiere!!


---
Moxy on Shuttle wake-up call!
(Thanks to Colin Crisanti and Doug Sheppard for this info)
On Thursday, August 14, 1997 the Shuttle Discovery crew was graced with "You Will Go to the Moon" for their morning wake-up call.
Click here for NASA's website.
Click here for the shuttle archives.
The voice of Capcom is none other than Canadian astronaut Marc Garneau (who is, unless I'm mistaken, the first Canadian to fly on a shuttle mission). And nasa.gov tells us that it's Marc who chose Fruvous for the wakeup music. :-)
A .wav file of the song is also available there.


---
Welcome!
Greetings, fellow Früheads, Früvites, and various fanage!!

Send me suggestions: This page is for everyone, so let me know what you'd like to see, what you don't like, anything at all. I want to make this one of the best Früvous pages around, so any comments will be greatly appreciated!

DISCLAIMER: I have pieced this page together from my own sources, as well as from files I've gotten off the net. If there's anything you see here that shouldn't be, please e-mail me and let me know. I will be more than happy to modify this page at any time.
(All material presented here, is the property of it's original author, all rights reserved. This set of web pages is fan operated and is no way commercially affilated with or sponsored by Moxy Früvous, Warner Music Canada, Jam Entertainment, or their affiliates.)


---
How you can help this page:
If you have any info on the band, specifics about live shows, lyrics for rare Moxy outtakes, and would like it to be added to this site, please e-mail me the details and I'll get it up as soon as possible. Like I said before, this page is for everyone, so let's make it the best repository of Moxy info out there!! :-)
Send Email to: webmaster@fruvous.com


---

Back to the main page...