The 'c' Album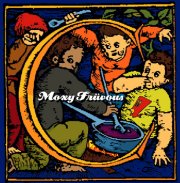 Release Date: May 20, 2000
The Lyrics
How to order The 'c' Album
You can order it online at either www.maplemusic.com or www.bulletproofstore.com.
You can order it from Moxy Fruvous HeadQuarters. See the Merchandise Page for more info.
You can buy it at a live Fruvous show.


---
Track Listing
(Total Time: 27:14)
Welcome to C [0:54] (audio clip available)
Pisco Bandito [2:51]
The Norbals! [1:24]
Video Disco Bargainville [4:25]
Beware The Killer Tents [3:22]
Heatseeker Boy [2:24]
The Mitosis Waltz [1:38]
Jared (The Wild Boy) [2:13]
Bad Jim [0:52]
The Goal Judge [2:40]
The Norbals! (reprise) [0:19]
Pork Tenderloin [3:01]
Guinea Pig [1:11]
---
Liner Notes:
---
Audio Clips:
Look for audio clips from this release in the Multimedia section.
---
Pictures, Pictures, Pictures
Look for scanned 'c' Album pictures in the picture gallery.
---
Reviews of 'c'
For press releases, newspaper articles, and the like, check out the news section.
---
Reviews by fans
---
Order 'c' online!
This and other Moxy Früvous releases are available online. Check out the following sites:
---

Back to the discography page...